This post has been compensated by Collective Bias, Inc. and its advertiser. All opinions are mine alone. #RegisteringForBaby #CollectiveBias
When you're expecting baby number one, everything is a little, well… Overwhelming? All of the baby advise, all of the option for baby gear… It's terribly exciting and overcoming all at the same time.
I for one am the kind of gal that believes you should do things your own way. I'm a go with your gut kind of person, so I feel like you've gotta do what you think is right and what you feel good about. After all, we're all supposed to have that mama intuition, right? And I think that comes in all different shapes and sizes!
Regardless of how we want to parent, we all need at least some gear for our little bundle of joy! Let's talk baby registries. For today's post, I've partnered with Target and Johnson & Johnson for a little baby looove.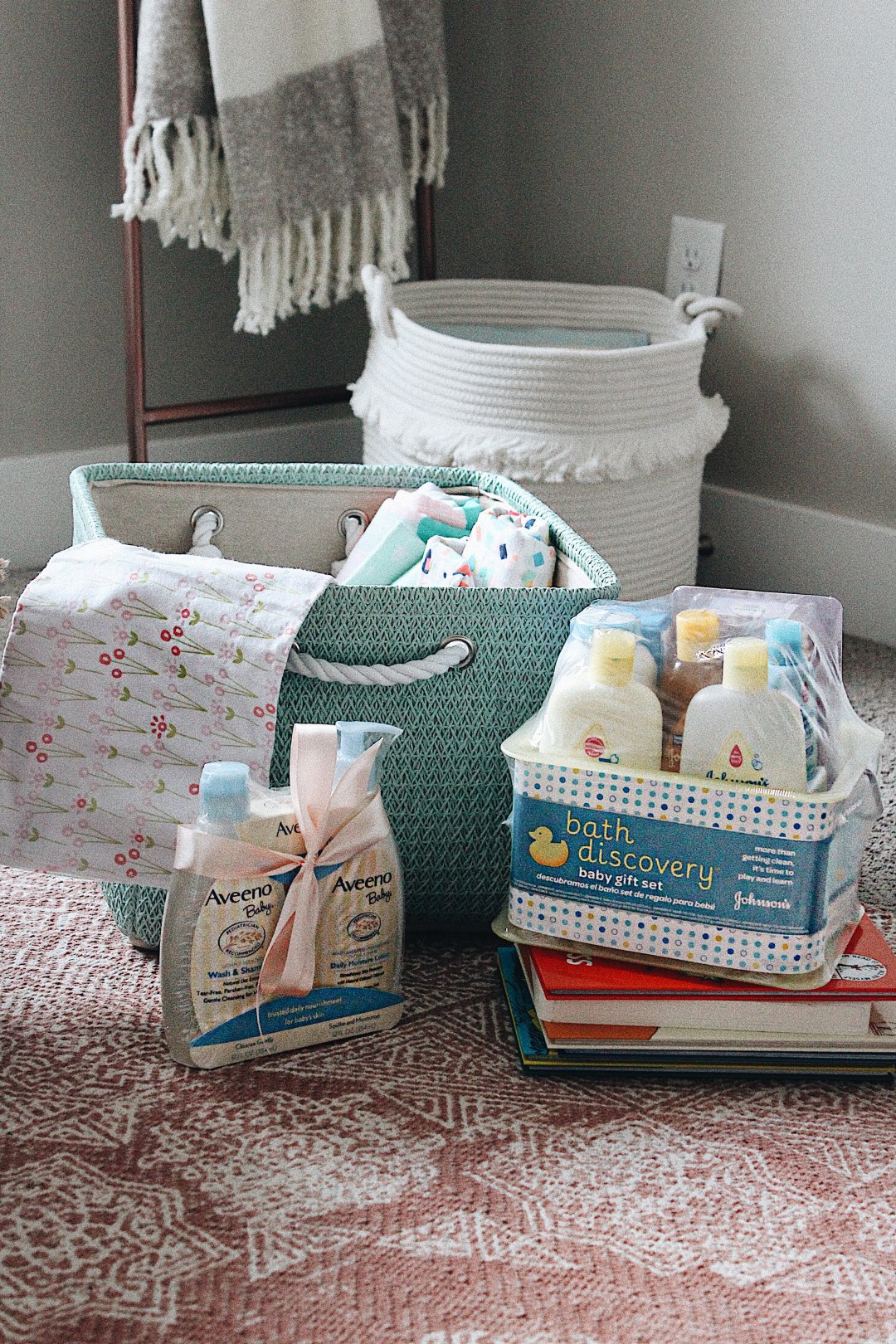 (Hover over the image above to shop these items!!)
So, here's the scoop— I've been nesting and organizing like a mad woman since we only have 2 months until baby girl arrives (bahhh I can't believe it)! I feel like we are so busy all of the time and we literally have a million things to do. Do you feel me? So, that's why I've been stoked on life that we were able to register from our couch and just chill for a sec.
Why I loved registering at Target—
It's easy. Most people have a Target close by or they can go online. I didn't want to register anywhere that would be difficult for people to get to. Plus, Target offers group gifting, making it easy for guests to contribute to larger items which is SO nice.
They've been doing this for a while. They've got you covered. You can go into Target to register, you can do it online on your computer (that's what I did), or you can download their app and register from your iPhone or Android. Bada bing bada boom.
Target has baby gear galore and I trust them. Not only do you get a welcome kit (you can pick up your gift at Guest Services for $50 worth of coupons & handpicked samples), but they also have super easy returns and exchanges, plus registrants receive a 15% off discount that will be emailed 8 weeks before your due date to provide savings on anything left on the registry. So bomb!
Second thoughts? No problem. As I've done more and more research on all things baby, I realized that a few items I originally registered for, I decided that I didn't really want anymore. It's been so nice to just pop online, check to see if anyone has purchased it yet, and remove it from my registry if no one had. I've also removed things from my registry when people have gifted me similar items which has relieved the stress of receiving lots of duplicates.
So, what happens when you get all of that fun baby gear? Again, it can be a little overwhelming and a bit of a mess! It's been a goal of mine to have everything in tiptop shape when baby girl arrives. This means that our nursery closet looks immaculate! I've been prepping the nursery and organizing, organizing, organizing. I just know that our little lady will be giving us a run for our money, so we'd better get prepped while we still can!
Here are my tips for nursery organization:
Baskets, baby, baskets. Target gift cards? Get yourself some baskets and get that baby gear organized! Top tip: Purchase several different sizes. Why? You'll likely have various spacing between closet shelves, and you'll want bigger baskets for things like diapers and smaller baskets for things like socks. I have a storage basket for literally everything you can image. Onesies, swaddle blankets, towels, bath time products… You bet I have my Johnson's® Bath Discovery Set for bath time and my Aveeno® Baby Daily Moisture Regimen Pack for when she gets out and I lather her up with the good stuff! Baskets don't just have to be for your closet either. You can display cute blanket baskets and book baskets throughout the room!
Grab n' go. Structure your closet baskets so that the things you'll need most are right where you can reach them. One of my biggest baskets is for diapers and it sits right at arms length so that when I'm half awake in the middle of the night I won't have to bend down and search down low or grab a step stool to rummage up high. Ain't nobody got time for that.
Stock up on your hangers. First, you'll obviously want to put those cute little outfits on display 😉 BUT you'll also want to save space! You can only have so may baskets, ha. Utilize the room that you have to make it a functional space for you and your baby. Organization will make your heart happy!
Make your nursery work for you. This is obviously my first go at things and I'm well aware that I may place products in areas that may end up not working for my routine. That's why although I have everything organized and planned, I know that plans change and that I need to be able to roll with it!
But seriously, I've become an organization freak.
Long story short, if you're an expecting mama, I would 100% recommend registering at Target (and getting organized!). It's the easiest thing you'll ever do. You can register here and you can check out the Johnson & Johnson + Aveeno baby products that I've mentioned here & here.
Happy baby shopping! #RegisteringForBaby
xoxo,
Karlee